CALGARY — Canada West's top two teams are lengthening their resumes as they prepare to host the CW Semi-finals this weekend. Victoria and Manitoba each boast three selections to the conference's all-star teams, released by CW Friday.
The conference's leading scorer, Diego Maffia (Victoria), headlines the first team alongside rookie sensation Simon Hildebrandt from Manitoba. ​ Maffia's right-hand man, Dominick Oliveri has been named to the second team, while their first-year teammate, Renoldo Robinson, earns a spot on the All-Rookie squad. Hildebrandt also finds himself on the all-rookie team, while another young Bisons centrepiece in Mason Kraus has been named to the third team.
Trinity Western's Mason Bourcier earns a first team nod after finishing in the country's top 15 for each steals, assists and points per game. Two tenacious offensive rebounders and scorers, James Woods (UBC) and Anthony Tsegakele (Brandon) round out the top line.
Headlining the second team is Holt Tomie of Mount Royal who finished tied for third in the country in scoring this season. This is the first all-star selection for both Tomie and Winnipeg's Shawn Maranan, a one-two guard punch on that second all-star roster. They're joined by forwards Abdullah Shittu (Alberta) and Carter Millar (Regina), whose win-at-costs mentalities had them shining on both ends of the floor.
Meanwhile, Fareed Shittu, a high-flying forward at UNBC, has made the conference's third team after leading his Timberwolves to a postseason berth, five spots ahead of the preseason polls.
Fellow third-team selection, Jahmaal Gardner of Brandon also played a huge role in his team subverting preseason expectations this year. Provincial foes Lars Ishimwe (Alberta) and Mason Foreman (Calgary) round out the third team after averaging 13.9 and 15.4 points respectively.
Alberta gets one more selection on the all-rookie team in Isaac Simon, joined by Winnipeg's Alberto Gordo and Mount Royal's Ijah Nelson. The trio have made their presences known in just their first years. Gordo now has a chance to advance to the CW Championship game, to be decided this weekend.
For more information on the 2022-23 CW Men's Basketball Playoffs, please click here.
POSITION / NAME / UNIVERSITY / YEAR / PROGRAM / HOMETOWN
1st Team All Stars
G / Diego Maffia / Victoria / 3 / Humanities / Victoria, BC
G / Mason Bourcier / Trinity Western / 5 / General Studies / Kelowna, BC
F / Simon Hildebrandt / Manitoba / 1 / University One / Winnipeg, MB
G / James Woods / British Columbia / 4 / Arts / Surrey, BC
F / Anthony Tsegakele / Brandon / 3 / Arts / Gatineau, QC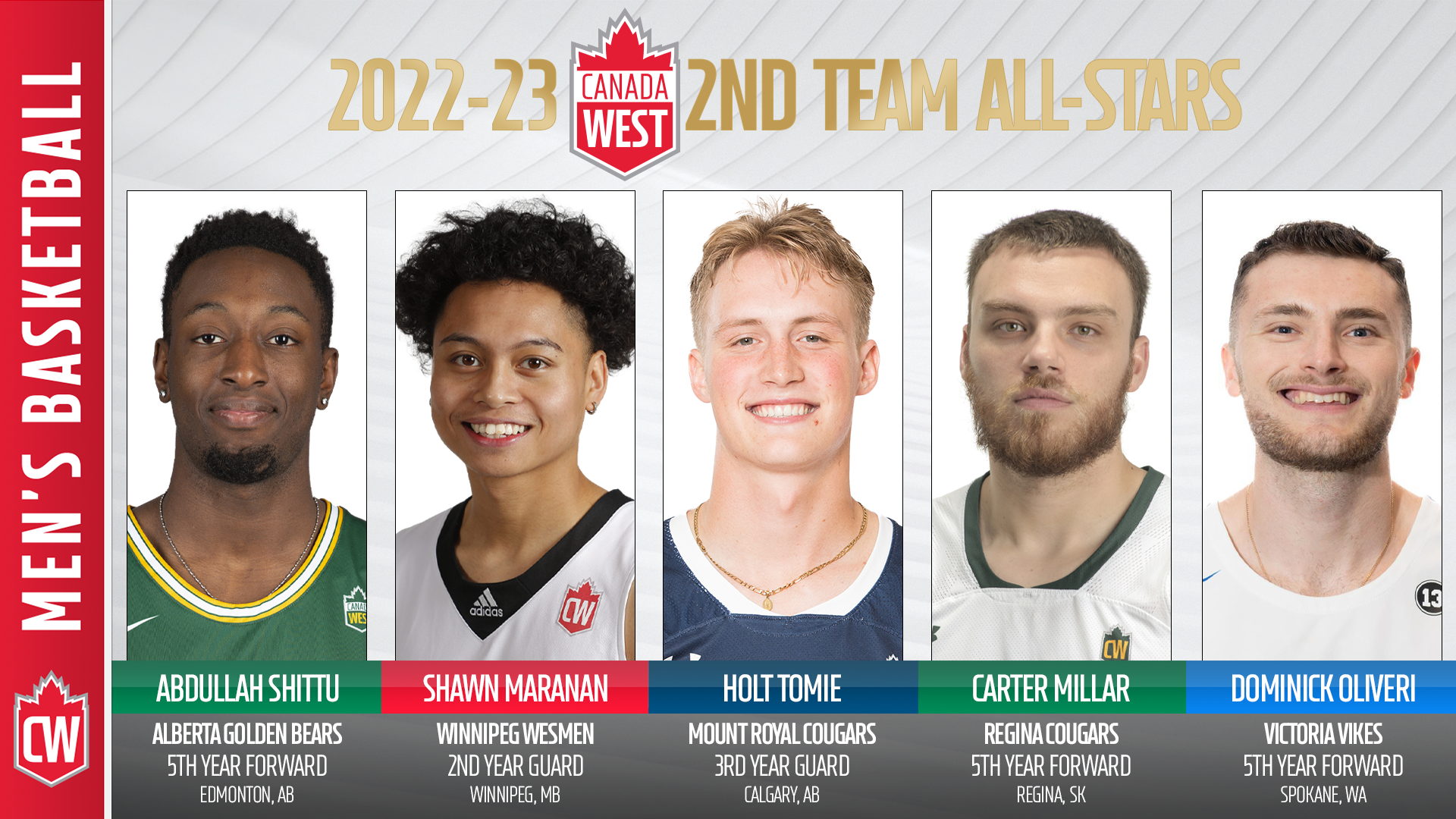 POSITION / NAME / UNIVERSITY / YEAR / PROGRAM / HOMETOWN
2nd Team All Stars
F / Abdullah Shittu / Alberta / 5 / Arts / Edmonton, AB
G / Shawn Maranan / Winnipeg / 2 / Kinesiology & Applied Health / Winnipeg, MB
G / Holt Tomie / Mount Royal / 3 / Business / Calgary, AB
F / Carter Millar / Regina / 5 / Arts / Regina, SK
F / Dominick Oliveri / Victoria / 5 / Social Sciences / Spokane, WA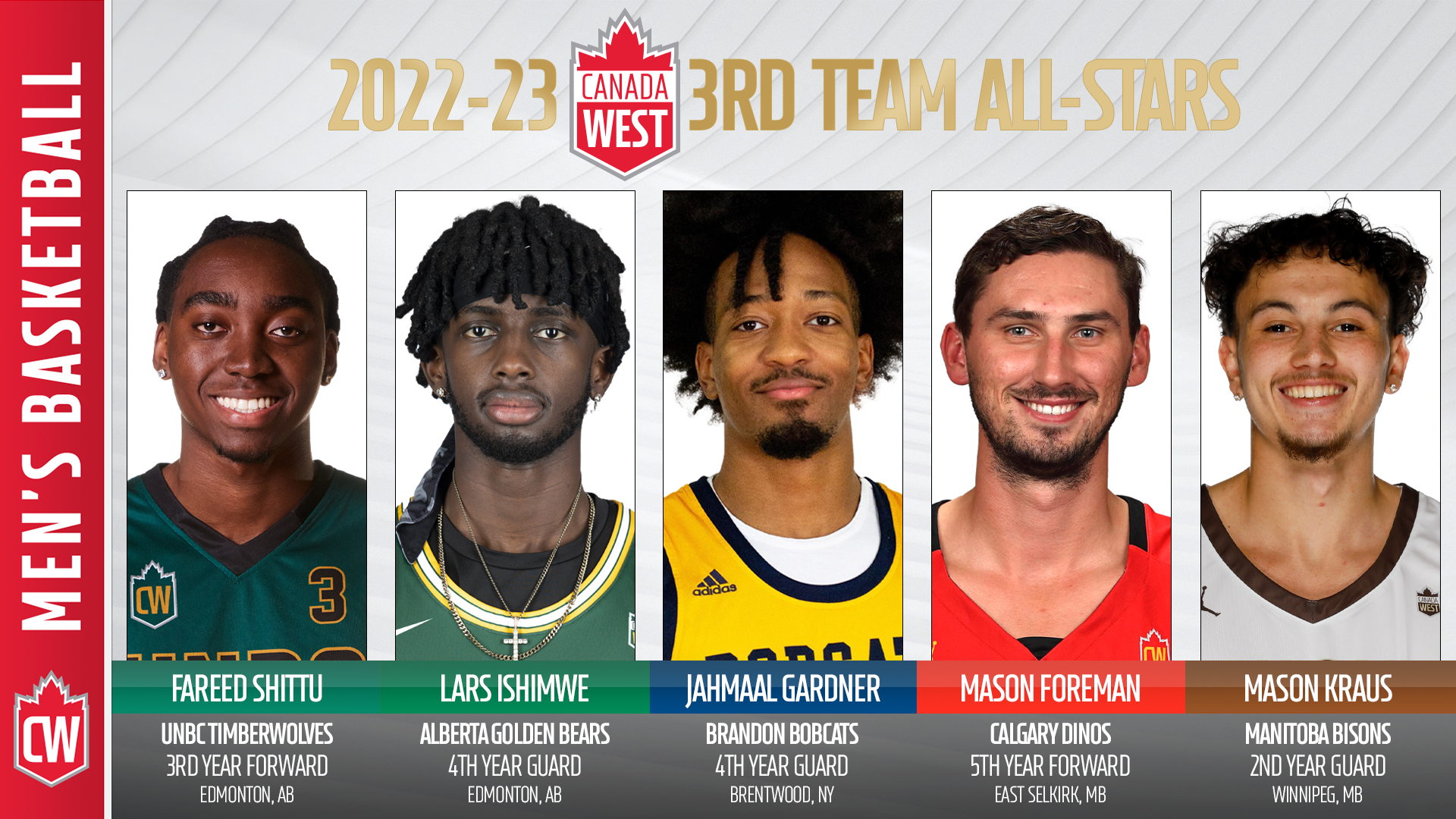 POSITION / NAME / UNIVERSITY / YEAR / PROGRAM / HOMETOWN
3rd Team All Stars
F / Fareed Shittu / Northern British Columbia / 3 / Commerce / Edmonton, AB
G / Lars Ishimwe / Alberta / 4 / Arts / Edmonton, AB
G / Jahmaal Gardner / Brandon / 4 / Physical Education / Brentwood, NY
F / Mason Foreman / Calgary / 5 / Open Studies / East Selkirk, MB
G / Mason Kraus / Manitoba / 2 / Arts / Winnipeg, MB ​ ​ ​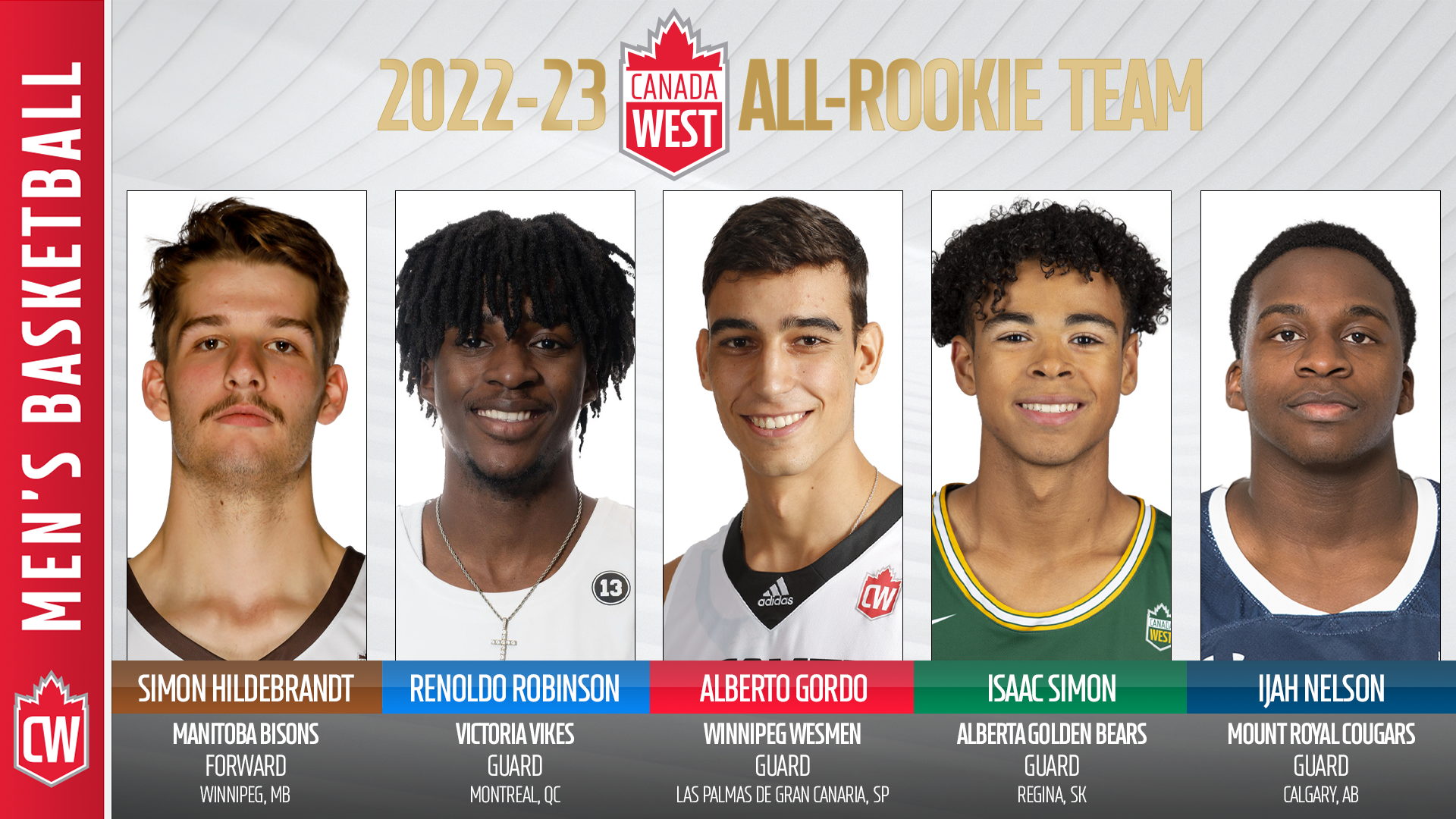 POSITION / NAME / UNIVERSITY / YEAR / PROGRAM / HOMETOWN
All Rookie Team
F / Simon Hildebrandt / Manitoba / 1 / University One / Winnipeg, MB
G / Renoldo Robinson / Victoria / 1 / Social Sciences / Montreal, QC
G / Alberto Gordo / Winnipeg / 1 / Kinesiology & Applied Health / Las Palmas de Gran Canaria, SP
G / Isaac Simon / Alberta / 1 / Business / Regina, SK
G / Ijah Nelson / Mount Royal / 1 / Open Studies / Calgary, AB
​ ​ ​ ​
---
MEN'S ALL-STARS AND ALL-ROOKIES BY TEAM
School / First Team / Second Team / Third Team / All-Rookies = TOTAL
Victoria Vikes: 1 / 1 / 0 / 1 = 3

Manitoba Bisons: 1 / 0 / 1 / 1 = 3

Alberta Golden Bears: 0 / 1 / 1 / 1 = 3

Brandon Bobcats: 1 / 0 / 1 / 0 = 2
Winnipeg Wesmen: 0 / 1 / 0 / 1 = 2

Mount Royal Cougars: 0 / 1 / 0 / 1 = 2

Trinity Western Spartans: 1 / 0 / 0 / 0 = 1

British Columbia Thunderbirds: 1 / 0 / 0 / 0 = 1

Regina Cougars: 0 / 1 / 0 / 0 = 1

UNBC Timberwolves: 0 / 0 / 1 / 0 = 1

Calgary Dinos: 0 / 0 / 1 / 0 = 1
Source: https://canada-west.prezly.com/mbb-conference-difference-makers-named-to-all-star-rosters