CALGARY — After grabbing the top seed in Canada West and earning the number one ranking in the country, the Saskatchewan Huskies are headlining another story. Four of the team's athletes have been selected to the Canada West All-Stars teams, released by the conference Friday.
The fearsome guard duo Carly Ahlstrom and Gage Grassick have made the first and third teams respectively, while two Saskatchewan first-years, Logan Reider and and Maya Flindall earned all-rookie status.
The conference's top scorer, Kyanna Giles of Winnipeg completes the all-star sweep, earning the honour in each of her five seasons. Rounding out the first team is last season's Rookie of the Year, Jade Belmore (Regina) and Fraser Valley's Maddy Gobeil, moving up from the third team last year.
Trinity Western's Jayden Gill, Victoria's Ashlyn Day and Regina's Cara Misskey make up the back court for the second team. The trio averaged 19.4, 18.3 and 14.8 points per game respectively. The front court consists of UBCO's Jaeli Ibbetson, who set several program records this season, and rebounding fiend Claire Signatovich of Alberta.
On the third team, Trinity Western's Nicole Fransson earns a nod after putting up more than 15 points a game and ranking fourth in the country in offensive rebounds. Lethbridge's Jessica Haenni returns to the all-star line-up after her second-team appearance last year. She's joined by second-year guards Annacy Palmer (Calgary) and Olivia Weekes (UBC), stars on their respective teams and big reasons for their postseason success. Weekes led the Thunderbirds into the quarterfinals, where they were overtaken by the top-ranked Huskies, while Palmer has pushed her Dinos through to the semi-finals, scheduled for this weekend.
For more information on the 2022-23 CW Women's Basketball Playoffs, please click here.
Calgary's Louise Rouse, Mount Royal's Jenessa Ramsoomair and Alberta's Kiah Easton-Ihediohanma join the above-mentioned Saskatchewan rookie duo to round out the all-rookie selections. Each have shown to be cornerstone pieces for their teams in just their first seasons.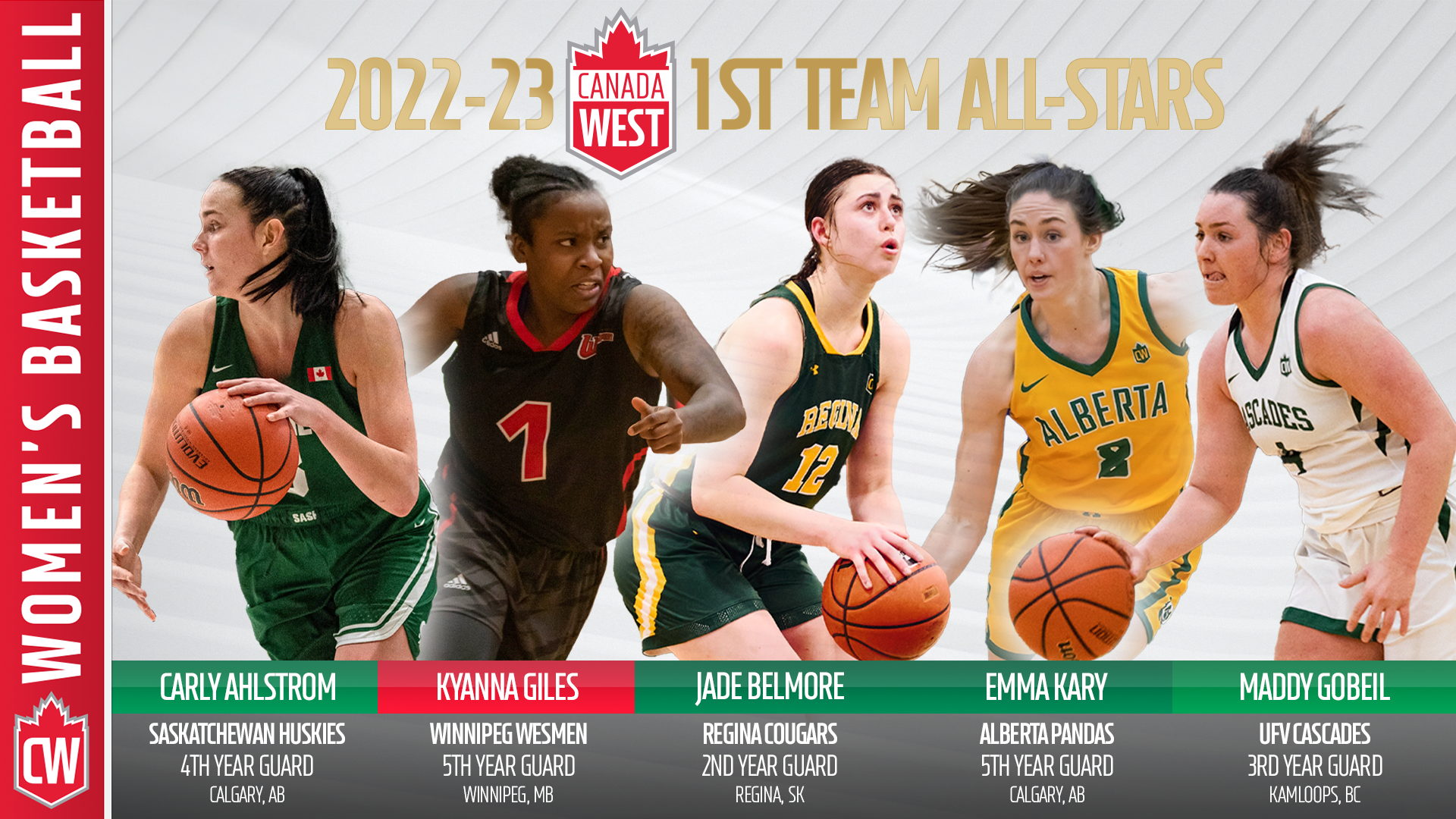 POSITION / NAME / UNIVERSITY / YEAR / PROGRAM / HOMETOWN
1st Team All Stars
G / Carly Ahlstrom / Saskatchewan / 4 / Kinesiology / Calgary, AB
G / Kyanna Giles / Winnipeg / 5 / Education / Winnipeg, MB
G / Jade Belmore / Regina / 2 / Kinesiology & Health Studies / Regina, SK
G / Emma Kary / Alberta / 5 / Graduate Studies / Calgary, AB
G / Maddy Gobeil / Fraser Valley / 3 / Kinesiology / Kamloops, BC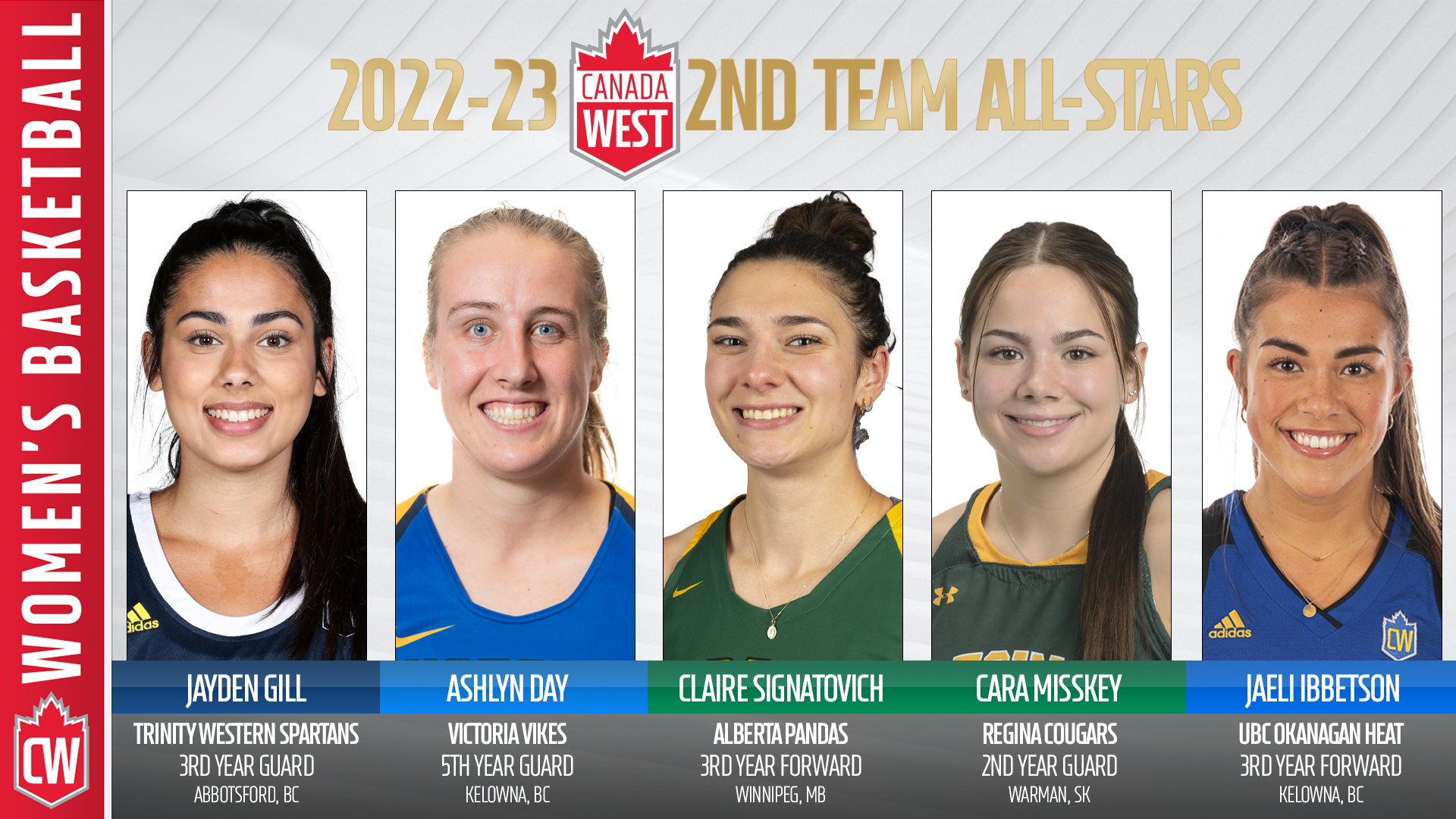 POSITION / NAME / UNIVERSITY / YEAR / PROGRAM / HOMETOWN
2nd Team All Stars
G / Jayden Gill / Trinity Western / 3 / Human Kinetics / Abbotsford, BC
G / Ashlyn Day / Victoria / 5 / Business / Kelowna, BC
F / Claire Signatovich / Alberta / 3 / Engineering / Winnipeg, MB
G / Cara Misskey / Regina / 2 / Kinesiology & Health Studies / Warman, SK
F / Jaeli Ibbetson / UBC Okanagan / 3 / Health & Exercise Sciences / Kelowna, BC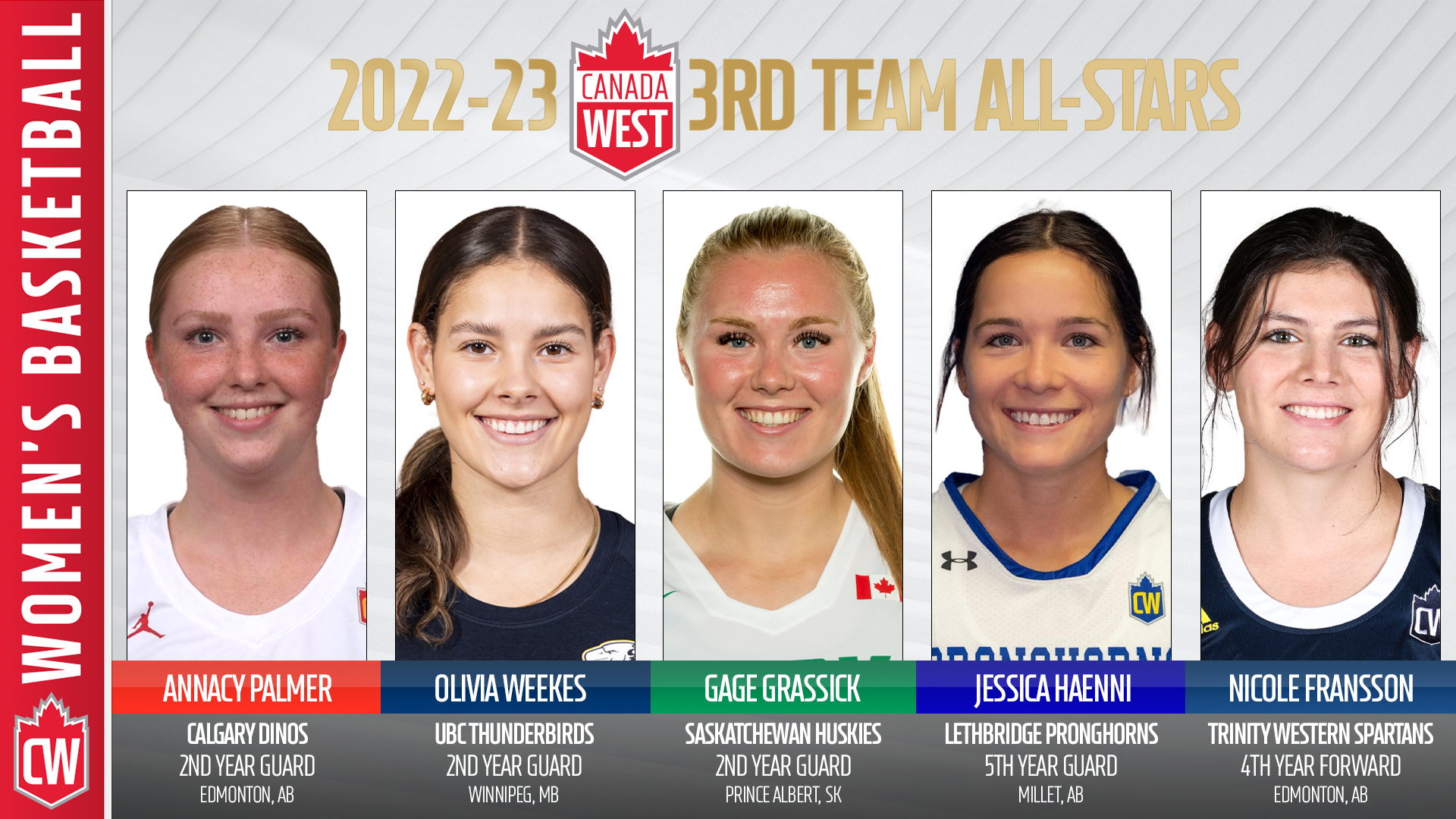 POSITION / NAME / UNIVERSITY / YEAR / PROGRAM / HOMETOWN
3rd Team All Stars
G / Annacy Palmer / Calgary / 2 / Kinesiology / Edmonton, AB
G / Olivia Weekes / British Columbia / 2 / Arts / Winnipeg, MB
G / Gage Grassick / Saskatchewan / 2 / Kinesiology / Prince Albert, SK
G / Jessica Haenni / Lethbridge / 5 / Science / Millet, AB
F / Nicole Fransson / Trinity Western / 4 / Human Kinetics / Edmonton, AB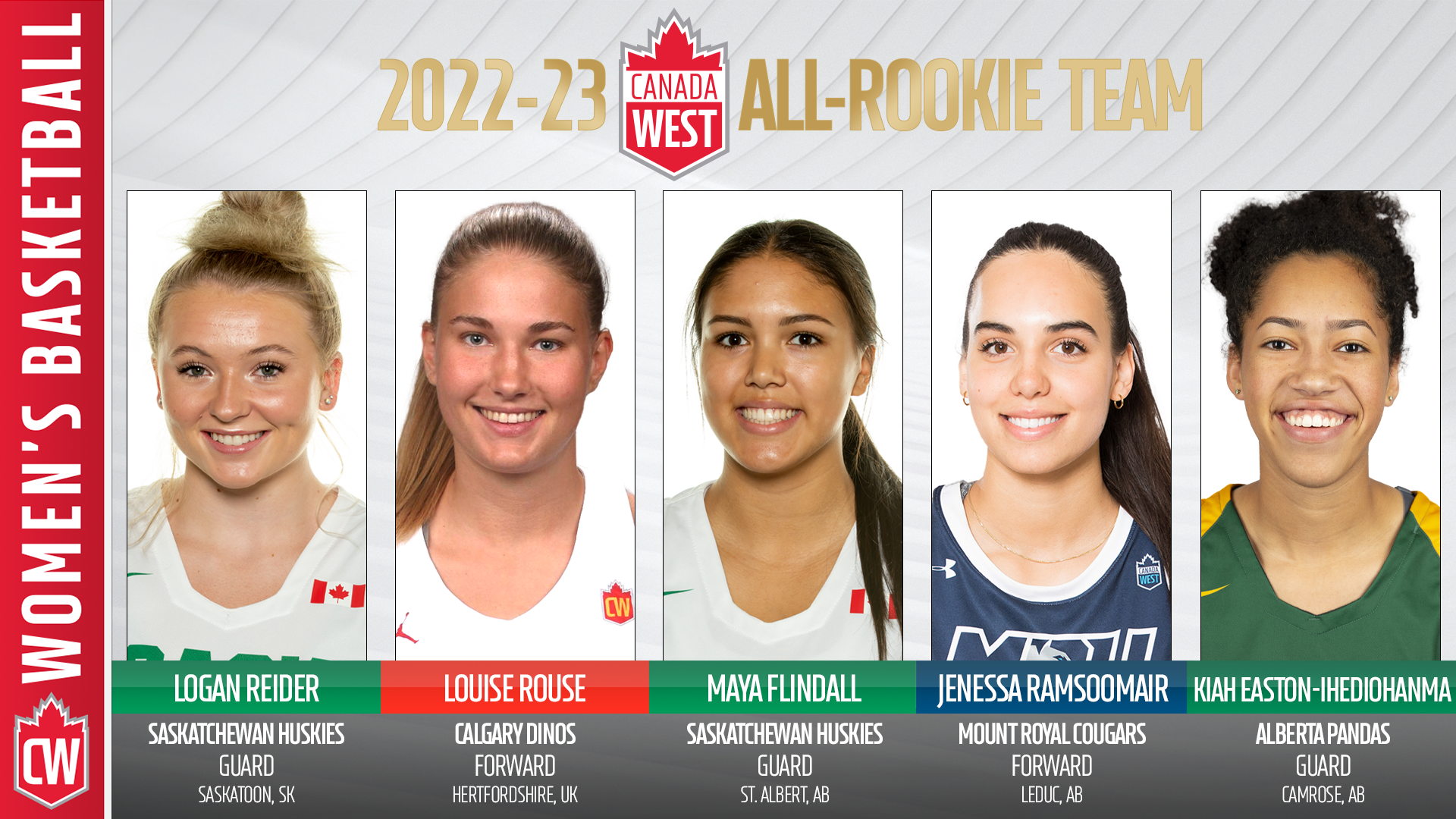 POSITION / NAME / UNIVERSITY / YEAR / PROGRAM / HOMETOWN
All-Rookie Team
G / Logan Reider / Saskatchewan / 1 / Education / Saskatoon, SK
F / Louise Rouse / Calgary / 1 / Kinesiology / Hertfordshire, UK
G / Maya Flindall / Saskatchewan / 1 / Business / St. Albert, AB
F / Jenessa Ramsoomair / Mount Royal / 1 / Sociology / Leduc, AB
G / Kiah Easton-Ihediohanma / Alberta / 1 / Arts / Camrose, AB
---
WOMEN'S ALL-STARS AND ALL-ROOKIES BY TEAM
School / First Team / Second Team / Third Team / All-Rookies = TOTAL
Saskatchewan Huskies: 1 / 0 / 1 / 2 = 4

Alberta Pandas: 1 / 1 / 0 /1 = 3

Regina Cougars: 1 / 1 / 0 / 0 = 2

Trinity Western: 0 / 1 / 1 / 0 = 2

Calgary Dinos: 0 / 0 / 1 / 1 = 2

Winnipeg: 1 / 0 / 0 / 0 = 1

Fraser Valley: 1 / 0 / 0 / 0 = 1

Victoria Vikes: 0 / 1 / 0 / 0 = 1

UBCO Heat: 0 / 1 / 0 / 0 =. 1

UBC Thunderbirds: 0 / 0 / 1 / 0 = 1

Lethbridge Pronghorns: 0 / 0 / 1 / 0 = 1

Mount Royal Cougars: 0 / 0 / 0 / 1 = 1
Source: https://canada-west.prezly.com/wbb-conferences-best-recognized-in-all-star-voting