Three members of the Wesmen women's basketball team were named to the conference all-star teams announced Thursday.
Fifth-year forward Keylyn Filewich was named a first-team all-Canada West, fourth-year guard Kyanna Giles was named second-team all-conference, and fifth-year guard/forward Faith Hezekiah earned a third-team all-star honour.
For Filewich, who was the 2019-20 Canada West player of the year and an all-Canadian, it is the third conference all-star honour in her career with four seasons spent at UBC. She was a first-team all-conference in 2018-19 and named to the conference all-rookie team in 2016-17. This season she is averaging 17.3 points and 10.5 rebounds per game while ranking third in the conference in field-goal percentage (51.9).
Giles, in her first season with Winnipeg after transferring from Regina, is now a four-time all-conference player, having been named first-team all-conference in 2017-18 and 2018-19 and third-team all-conference and all-rookie team in 2016-17.
Giles is averaging 17 points, 8.4 rebounds, 5.3 assists, and 2.2 steals per game this season.
Hezekiah, who has played all five seasons with the Wesmen, earned her third conference all-star award after being a third-team all-star in 2017-18 and first-team in 2018-19.
She is averaging 15.9 points and 6.1 rebounds per game while shooting a career-high 42.6 from three this season, which ranks third in the conference.
Sources:
https://wesmen.ca/general/2021-22/releases/20220303inhb86
https://canada-west.prezly.com/wbb-top-scorers-team-leaders-headline-all-star-rosters
---
WBB: Top scorers, team leaders headline all-star rosters
Canada West announces its women's basketball all-star teams
CALGARY — These women know how to win. The headliners of Canada West's women's basketball all-stars led their team to impressive records this year. Those efforts earned them a nod as the best in the west, as the conference released its first team all-stars, second team all-stars, third team all-stars and all-rookie team Thursday.
1st Team All-Stars
Canada West's star-studded first team has representatives from each province, including four of the five top scorers this year.
Forward Summer Masikewich represents the top-ranked Saskatchewan Huskies, while Alberta's Emma Kary and Fraser Valley's Deanna Tuchscherer round out the honourees from the big three.
Winnipeg's Keylyn Filewich earned her top-team title, with her teammates also getting spots on the second-team and third-team rosters. The league's top point-getter, Fraser Valley's Ashlyn Day, completes the lethal first-team combination.
These all-stars will now look to add "CW Champions" to their already impressive resumes. That work begins Friday with the 17-team single knock-out playoff tournament that will decide the Final Four.
Full playoff details, results and recaps here.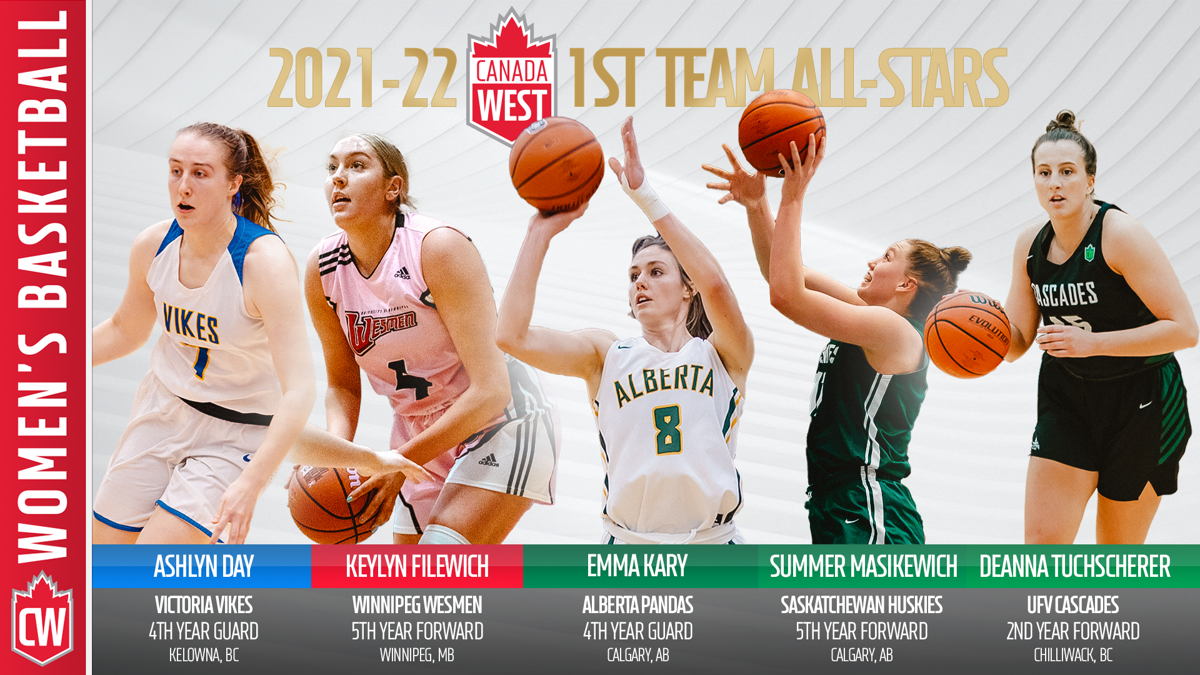 POSITION / NAME / UNIVERSITY / YEAR / PROGRAM / HOMETOWN
First Team All-Stars
G / Ashlyn Day / Victoria / 4 / Business / Kelowna, BC
F / Keylyn Filewich / Winnipeg / 5 / Business & Admin. / Winnipeg, MB
G / Emma Kary / Alberta / 4 / Graduate Studies / Calgary, AB
F / Summer Masikewich / Saskatchewan / 5 / Nursing / Calgary, AB
G / Deanna Tuchscherer / Fraser Valley / 2 / Kinesiology / Chilliwack, BC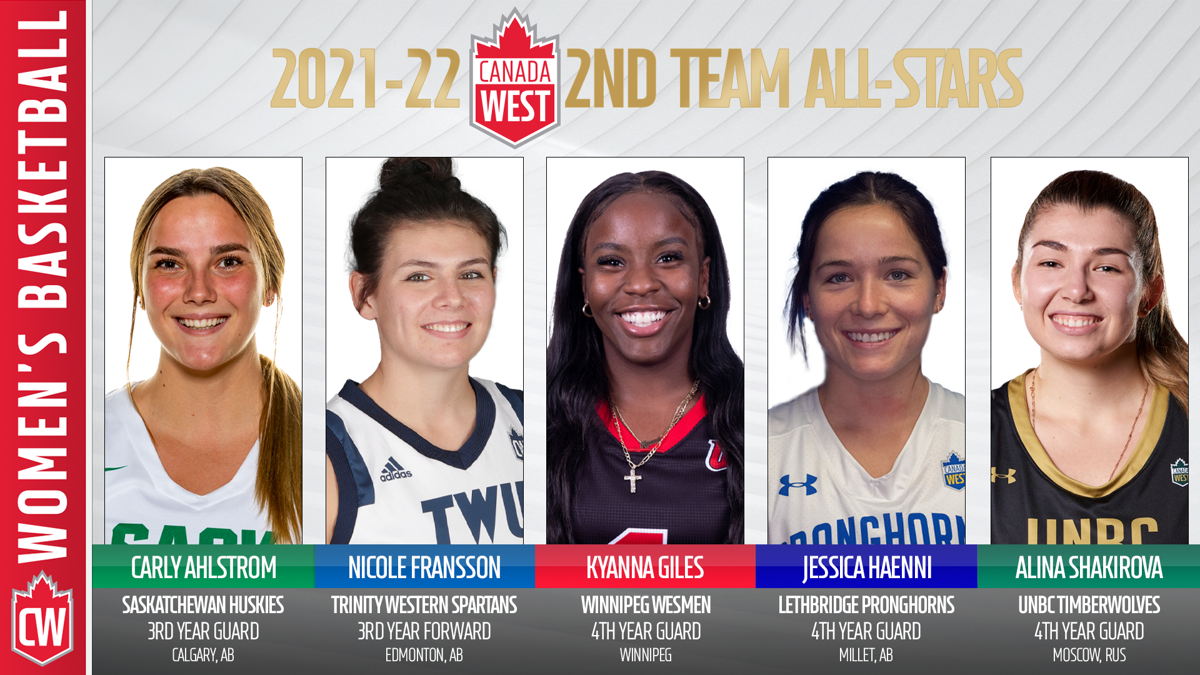 POSITION / NAME / UNIVERSITY / YEAR / PROGRAM / HOMETOWN
Second Team All-Stars
G / Carly Ahlstrom / Saskatchewan / 3 / Kinesiology / Calgary, AB
F / Nicole Fransson / Trinity Western / 3 / Human Kinetics / Edmonton, AB
G / Kyanna Giles / Winnipeg / 4 / Education / Winnipeg, MB
G / Jessica Haenni / Lethbridge / 4 / Science / Millet, AB
G / Alina Shakirova / Northern British Columbia / 4 / Psychology / Moscow, RUS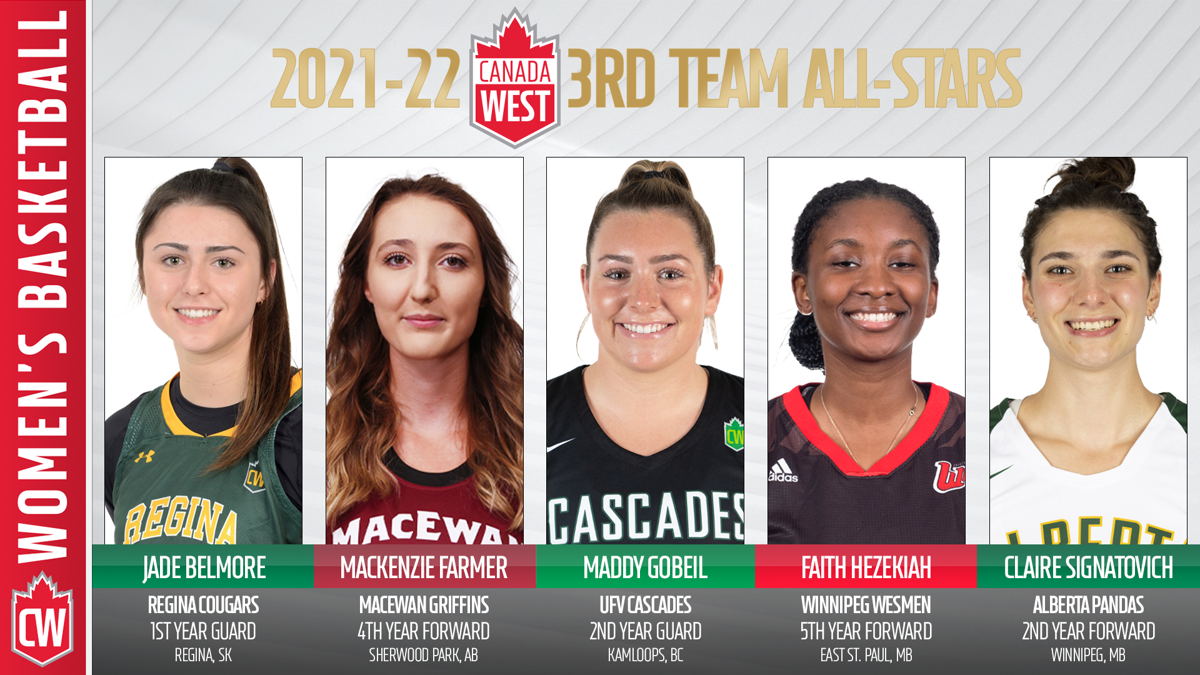 POSITION / NAME / UNIVERSITY / YEAR / PROGRAM / HOMETOWN
Third Team All-Stars
G / Jade Belmore / Regina / 1 / Kinesiology / Regina, SK
F / MacKenzie Farmer / MacEwan / 4 / Arts / Sherwood Park, AB
G / Maddy Gobeil / Fraser Valley / 2 / Kinesiology / Kamloops, BC
F / Faith Hezekiah / Winnipeg / 5 / Conflict Res. & Urban Studies / East St. Paul, MB
F / Claire Signatovich / Alberta / 2 / Engineering / Winnipeg, MB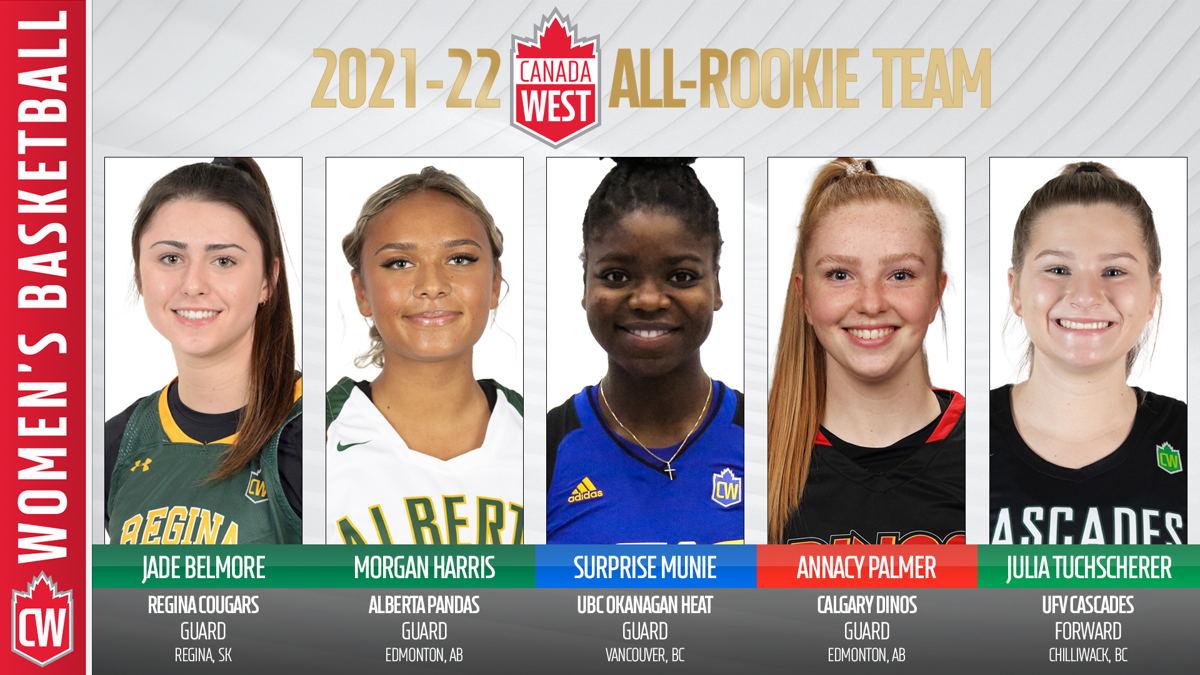 POSITION / NAME / UNIVERSITY / YEAR / PROGRAM / HOMETOWN
All-Rookie Team
G / Jade Belmore / Regina / 1 / Kinesiology / Regina, SK
G / Morgan Harris / Alberta / 1 / Arts / Edmonton, AB
G / Surprise Munie / British Columbia Okanagan / 1 / Management / Vancouver, BC
G / Annacy Palmer / Calgary / 1 / Kinesiology / Edmonton, AB
F / Julia Tuchscherer / Fraser Valley / 1 / Science / Chilliwack, BC